Advanced Grande Réponse Balanced Hammer Action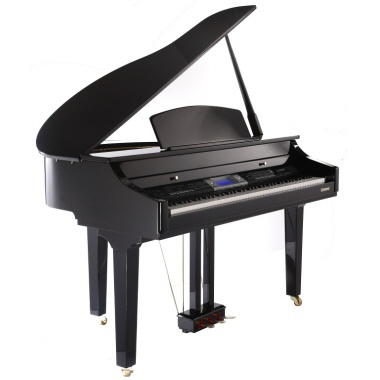 Beautifully Crafted Cabinet
The Suzuki "Grande Réponse II" Mini Grand Piano is timeless. The elegant hand rubbed Lacquer cabinet is painstakingly finished with an 8 layer high gloss polish ebony. Equally at home in your School Hall, Music Room, or Theatre this beautiful instrument not only makes a superb focal point, but is an incredible musical instrument for anyone wishing to learn, play or entertain.
Advanced "Grande Réponse" Balanced Hammer Action
Suzuki's Advanced Grande Réponse Balanced Hammer Action Keyboard accurately recreates the feel of an acoustic grand piano. For realism it uses a new hammer action that lets you feel the hammers and cushions as you play.
Dynamic Imaging Sound Source
A powerful sound engine and Dynamic imaging Sound synthesis provide amazingly detailed, rich sound. Each instrument sound has been carefully sampled and contains more memory than ever, so you hear more of the characteristics of each – including the player's natural vibrato.
Explosive Sound System
With 80 watts of power the sound delivery system creates a powerful, crisp and realistic three-dimensional sound to ensure its concert hall sound reproduction.
Includes:
• Digital Mini-Grande Piano
• Matching Bench
• Demonstration SD card
• USB Card Reader
• Student Series Tuition Course (Book 1)
• Instruction manual
• AC cable
• Assembly Guide
• Tools for Easy Assembly

Price: £1599 plus delivery
Price shown is our special Educational deal. The normal RRP is £2199. Please contact us for details, delivery extra.
More Information and photos <here>