Additional information
<return to main product page>

Advanced Grande Réponse Balanced Hammer Action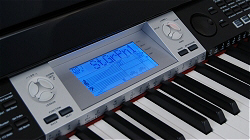 Advanced Balanced Hammer Action Keyboard accurately recreates the feel of an acoustic grand piano. For realism it uses a new balanced hammer action that lets you feel the hammers and cushions as you play. Its the music teachers choice for digital pianos.

Clear Easy to use information center. The central display is clearer and easier to use than ever before. It shows the current condition of the Piano along with other relevant information to help with your performance. The Piano also features on board self teaching software.
Grand Piano Button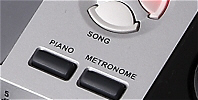 As well as a library of exciting sounds the Grand Piano button resets operations of the keyboard to the 'Grand Piano' preset sound making it easy to leave one area of operation and return to the acoustic piano setting.True 3D Imaging Sound Synthesis – Piano Sound

Three Dimensional Stereo Imaging Sound Synthesis technology is based on real recordings of a carefully tuned and adjusted world-class concert grand piano. It has been sampled across the keyboard to capture all sound variations. For the ultimate in acoustic instrument realism, Imaging Sound Synthesis technology delivers.

Dynamic Imaging Sound Source

A powerful sound engine and Dynamic imaging Sound synthesis provide amazingly detailed, rich sound. Each instrument sound has been carefully sampled and contains more memory than ever, so you hear more of the characteristics of each – including the player's natural vibrato.
Secure Digital Port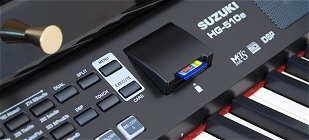 The SD port allows you to play along or just listen to the millions of available MIDI music files. You will receive free of charge an SD card loaded with some popular Piano and Orchestral works. The included USB SD Card reader enables you easily transfer the music files from your computer. Many websites offer free MIDI files as well as commercial files that you can buy.
64-Note Polyphony
With 64-note polyphony, you get virtually unlimited dynamic expression on your performances. You can even combine different instrumental sounds for a rich, layered effect. 64-note polyphony also ensures that there are no note dropouts so that you can play in the same style and stamina as you would an Acoustic Concert Grand Piano.

Separate DSP Effects & Performance Enhancements
You can add enhanced DSP effects and traditional effects like Chorus and Reverb to your music. This Grand Piano also offers separate equalization functions for each part, letting you sound sculpt your tone to create studio-quality sound. In addition this new model allows you to select special articulation features not available on previous models. (Such as Portamento, Modulation etc)

Advanced Arranger

The HG510e is a full Ensemble Grand Piano. You have at your fingertips a comprehensive library of modern and traditional styles to suit all tastes and genres of music. Panel Memories (ONE TOUCH SETTINGS)

Easily recall your favourite sounds, balances, rhythms, and tempos with the push of a button.

Over 500 Sounds!

The Grande Réponse includes a comprehensive library of incredibly realistic instrument tones. Whether you choose from the multiple sound categories or use the Data Wheel, the sound you want is easy to find.

One Touch Play
With one touch play, you can set up the right sound combination for each Auto Accompaniment Orchestra rhythm pattern with the press of a button.
Complete Drum Kit Selection
Multiple drum kits have been sampled from a fully assembled drum kit to ensure that every sound is authentically reproduced.
Explosive Sound System
With 80 watts of Stereo power, the sound delivery system creates a powerful, crisp and realistic three-dimensional sound to ensure its concert hall sound reproduction.
USB & MIDI Expandability
Our USB & MIDI Ports ensures compatibility with other manufacturers products, GM, GM2, and most other industry software. The MIDI and USB sockets also let you connect to any other MIDI-compatible equipment. Additionally the USB port allows you to connect your piano to a PC to digitally record the music you create. You can even connect a laptop (fitted with USB or other appropriate connections or via FDD) to transfer and read music downloaded from the Internet.
Included Accessories
Matching padded bench
Suzuki Piano Player Tuition Book
SD Card ReaderSD Card (with many musical pieces pre loaded)
User Guides
Specifications
Keyboard: 88 Key, Advanced Grande Réponse Balanced Graded Hammer Action, Velocity Sensitive
Sound Source: New True 3D and Stereo Deluxe Instrument Samples
Polyphony: 64 Note Polyphony
Preset Tones: 539
Function: Power Switch, Volume, Album/Song, Style, Dual, O.T.S. demo, Touch, Dial, Tempo, Accompaniment Volume, Split/ Lower Voice, metronome, Bank Store, memory 1-6, Grand Piano, Function +/Next, Function -/Back, Mixer, Sustain, Portamento/Modulation, A.B.C/Melody Off, Disk, Save, utility. One Touch Setting, Transpose, Dual, DSP
Rhythm Styles: 203 styles including 3 user styles.
Accompaniment Controls: Start/Stop, Sync Start, Sync Stop, Intro/Ending. Fill-in A & B, fade
Touch Control: Soft, Normal, Hard, Fixed
Songs: Song Library (100 songs) with learning mode. 2 demo songs
Panel memory: 48 User Memory Storage
Power Output: 80 Watts (40W per channel)
Recorder: 5 Track Sequencer (4 melody, 1 accompaniment)
Pedals: Soft, Sustain, Sostenute
Connections: Headphone Jack, Audio Out (L & R/Mono), MIDI In/Out, USB
Display: Multi Function LCD
Finish: High Gloss Black
Dimensions: 1476 (W) x 920 (D) x 948 (H) mm
Weight: 102kg

This instrument is CE approved.
IMPORTANT WARRANTY INFORMATION.
These Piano's have been specifically designed for UK distribution. Pianos purchased from outside of the UK (particularly outside of the European Union may not have passed certain electrical criteria, and thus may not have the above CE declaration of conformity. As the official UK distributor of Suzuki Musical Instruments, Suzuki Europe Ltd fully guarantee all instruments purchased from ourselves (that of course carry CE approval). We are NOT responsible for any warranty issues you may have with products purchased outside of the United Kingdom.


*Prices shown are British pounds sterling and include VAT. Suzuki reserve the right to change Specifications and designs without prior notice