The instrument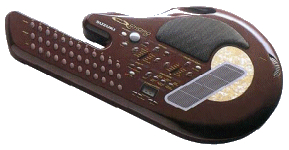 The Q Chord is the latest instrument in the Omnichord Series. It incorporates technology from a basic keyboard and electric guitar and combines both in a portable, easy to use way. The instrument is divided up into three sections; a touch sensitive 'strum plate', a rhythm section and chord button section. Each of these areas can be used independently or combined. There are many wonderful and varied sounds obtainable from the strum plate and the combination of different musical sounds achievable is both impressive and unusual!
Easy to play.
Any age - anyone from very young to very mature!
Anyone can play - whatever his or her level of playing skill.
Composition -the ideal composing instrument.
Teaching - an excellent educational instrument.
Therapy - now used in specialist Therapy Centres.
Suitable for

Schools, Performers,

Churches, Playgroups, retirement centres etc.
Ideal for all the family to use.
A good alternative (to guitar or keyboard) for the performer!
Easy to use
The Q Chord is quite simply a unique instrument that anyone can play, from novice to accomplished musician. By using the basic features, the player will always sound 'in tune' and the 'strum plate' has been designed to avoid any 'wrong notes'!
Just press a chord button, strum the "strings" on the unique "strumplate". Always in tune, you'll sound great using just the basic features, without ever making a mistake.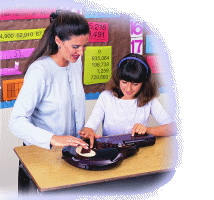 The Q Chord is an ideal accompaniment instrument, which therefore makes it popular with a wide variety of different outlets and groups, such as churches, Primary schools, Pre-schools/Kindergarten, Scouts, Girl Guides, caravan and camping etc. The very soothing melodic sounds of the Q Chord make it ideal for use in therapy groups and therapeutic applications. Many organisations are now using it for this.
Educational/ Schools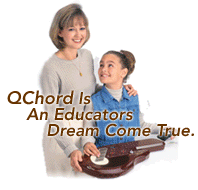 Anyone can create great sounds from the Q Chord, which in itself is an inspiration to use it more and more. This somewhat addictive aspect to the instrument can motivate the novice to learn more about the music they are creating. Multiple skill levels on the Q Chord will allow natural progression in this way. Many schools have now adopted the Q Chord as an accompaniment instrument for classroom sessions or for individual student tuition.
Accessories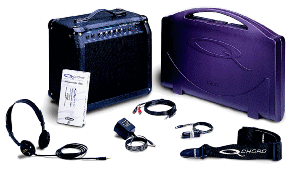 There are a number of accessories available for the Q Chord, the most notable of which are the song cartridges. These plug into the instrument and the karaoke effect makes it possible to play as well as sing along to pop favourites, country and western, religious, children's favourites, party hits etc. Great fun for all the family to join in! The Q Chord is easily connected to a speaker, for increasing volume to larger audiences, if required. The MIDI facilities also allow connection to other instruments or to a computer if needed.
How to order:
You can order your Qchord Accessories from the official Omnichord Heaven website, simply click here: