Sound Blocks

Sound block SB-8
By using the special stand (DKP-211) it is possible to observe a visual representation of the level of sound in the scale.

Range: 8 notes c 2 ~ c 3
Material: Special aluminum alloy sound board, plastic box
Dimensions: 20 × 40 × 35.5cm
Weight: 1.5kg
Accessories: Mallet (SP-170)
'Scale Steps' (DKP-211)
Sound block SB-13
Range: 11 notes c 2 ~ f 3 (C52 ~ F69)
Additional notes x 2: f # 2 · b b2
Material: Special aluminum alloy sound board, plastic box Agathis + plywood case
Dimension: 49.5 × 27 × 8.3cm
Weight: 3.5kg
Accessories: Wooden Case Lid can be used as Music Rest), Mallet (SP-170)
Sound block SB-25
Beautiful, gentle sound due to the wooden blocks.
Range: Chromatic 25notes c 2 ~ c 4 (C52 ~ C76)
Remarks: Single notes also available.
Material: High strength aluminum alloy plate, wooden sound boxes, plywood case
Dimension: 60 × 45 × 7cm
Weight: 6kg
Accessories: Two sets mallet (SBP-01H · SBP-02S) · Hard Case
Sound block SB-26
You can play chords When you hit a triple mallet to set three single note holder in the code provided.
Range: 26 chromatic notes,
c 2 ~ c # 4 (C52 ~ C77)
Material: Special aluminium alloy sound board,
Plastic box, plywood case
Dimension: 65 × 44 × 6.5cm
Weight 6kg
Accessories: Eight mallet (SP-191)
One triple mallet (SP-196)
One chord holder (DKP-221) · with case
Description of item: The box that does not have this sound board, sound like maracas will sound shake.
STE-50 Temple Blocks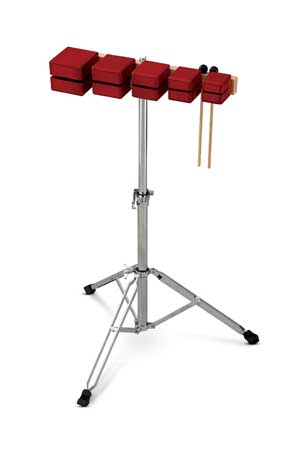 Our Temple Blocks have been designed with an emphasis on a pleasing depth of the sound. The blocks are mounted on a special height adjustable stand and are a great asset to any percussion ensemble.


Material: 5 birch wood sound blocks
Block Size: 51x8.8cm
Stand: 70 ~ 95cm
Height: adjustable
Accessories: Stand (DSP-501)
Mallet: (SP-300)
| | | |
| --- | --- | --- |
| Product ID | Description | RRP £ |
| SB-8 | 8 Note set with mallets and step, without case | 133.99 |
| DKP-211 | Step for SB-8 | 31.49 |
| SB-13 | 13 Note set with case and mallets | 208.99 |
| SB-26 (26 note) | 2 Oct.Chromatic,assorted mallets,chord holder, | 399.99 |
| SB-1 | Individual Sound Blocks for SB-6, SB-13 and SB-26 | 11.99 |
| STE-50 | Set of 5 Blocks with stand and mallets (STE-1,2,3,4 & 5) | 395.99 |
| | | |