MX-27S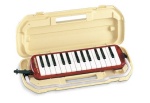 An attractive translucent burgundy Melodion, this lightweight instrument is ideal as an introduction to the world of Melodion playing. Also suitable for children and toddlers as very little effort is required to play it. Supplied in a sturdy ABS plastic case to protect the Melodion and accessories.
Included Accessories:
Tough colourful carry case
1x MP113 extension tube
1x MP121 Standard Mouthpiece
Weight: 1.Kg inc case (469g without)
Dimension: 120mm x 440mm x55mm (inc case)

Note Range:
f~g3 27 keys
S-32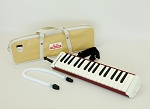 High quality construction of a metal and plastic body make this Soprano Melodion the perfect choice for advanced students and professionals. A 32 note keyboard starts at the F below middle C and covers two complete octave above. Supplied with an attractive, quality Leatherette case to ensure the Melodion and accessories are kept safe.
Included Accessories:
Soft vinyl gig bag
1x MP113 extension tube
1x MP121 Standard Mouthpiece

Note Range:
f1~c4 32 keys, a=442hz
Suzuki Soprano Melodion Prices
| | | |
| --- | --- | --- |
| MX-27S | All Plastic 27 key melodion with ABS case | £68.99 |
| S-32 | High quality 32 key melodion with gig bag | £98.99 |